What is a Gele?
A "gele" is an ornamental head covering made of woven cloth commonly worn by women in Nigeria and other African communities across the diaspora. Although geles can be worn for daily activities, elaborately styled geles are usually reserved for special functions and ceremonies—namely weddings, church activities, and other formal events.

The fabric of choice for a gele is aso-oke—a stiff, textured, and tightly hand-woven fabric. Aso-oke literally translates to "top cloth" and was traditionally a sign of wealth and favored by Nigerian kings. Aso-oke fabric can be unwieldy for most women to style and place on their heads themselves. As a result, women usually rely on experts to manually style geles by hand onto the heads of their seated clients. The process can be long, inconvenient, and wasteful as hand-styled geles can usually be worn only once.
About the brand
ANGELINA SWANN is a game-changing brand created by Kelechi Emem, a native from West Africa. ANGELINA SWANN offers high-quality ready-to-wear geles weaved, handmade, and dyed by our talented in-house artisan team using the finest materials. Each piece is designed for the woman who inspires, rules, and motivates.

Each ANGELINA SWANN piece offers women the convenience and practicality of ready-to-wear geles without sacrificing the regality or customized fit typically associated with hand-styled geles. ANGELINA SWANN pieces confer a classically elegant appearance that enhances the beauty of the wearer. Our pieces are lightweight, comfortable, and designed with longevity in mind. Our pieces are made in small quantities to ensure exceptional quality of each piece. You are sure to stand out in any crowd.

All ANGELINA SWANN purchases are presented in signature packaging and shipped securely.
Our mission
Our artisan team aims to make women feel empowered, elegant, and confident through high-quality fashion built to last. Our mission is to transform you into the royalty that you are.
Our Founder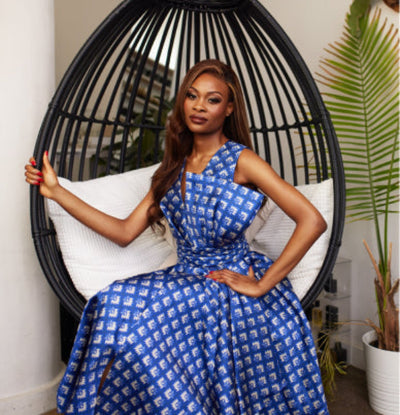 Kelechi Emem was born in Nigeria and relocated to the United States at a young age. She is passionate about fashion and its ability to transform people and circumstances.
An avid traveler, Kelechi takes inspiration from contemporary fashion and design encountered on her various exotic trips. Kelechi wanted to create a world that is rooted in African traditions and culture. A nod to the past, while simultaneously introducing a contemporary twist—something progressively traditional.